Are you really a blogger if you don't do a monthly recap of what you loved? Probably. But this is something that I'm really excited to do.
February was good to me. So here are all the things that made it so good…
BEAUTY
This ranges from hair, to makeup, to skincare, to anything in between that helped me feel beautiful.
Nip + Fab is not a new brand, but it is new to my vanity in 2018. They incorporate powerful ingredients like bee venom, "dragon's blood", glycolic acid, and kale in their skincare. What really drew me in was their Glycolic Fix line of products. As you know, glycolic acid is my skin's best friend. Nip + Fab made using glycolic acid so convenient for me with their Glycolic Fix Pads for day & night – a special blend of glycolic acid, hyaluronic acid, lactic acid and daisy extract on a dual sided cotton pad (one textured side, one smooth side). It's gentle enough to not burn my skin, but potent enough to have a positive & visible effect. They're also great for travel which is so important in my life.
Anastasia Beverly Hills first mastered eyebrows, and then they mastered glow. The "Ultimate Glow" glow kit is the latest addition to my makeup collection. Am I late? Yes. I feel like it didn't get the proper hype when it was initially released in 2016. Also, it's no longer sold in most retailers. EXCEPT TJX Companies (TJ Maxx & Marshalls), where I found it for the steal of a price $24.99. The colors are stunning, giving a genuine glow that's not too overpowering. Such a great highlighting palette for everyday use.
FASHION
Pretty self explanatory, right?
Teddy bear coats are the best thing that ever happened to me. They're cute, they're cozy. They can be dressed up and down. And having one thats a size or two too big is the best. They're definitely a major trend from fall & winter, and as the cold comes to an end it's the perfect outfit add-on to really play up your personal style. They mostly come in neutral colors, making it easy to match any & every outfit. Mine is from Forver 21 (no longer sold, but here's a similar option).
ENTERTAINMENT
I wanted to put music, tv, and movies in one category. So here we have it.
Chloe x Halle have been the only thing playing my car for weeks. I can't get over how well they sound together. If you've been under a rock for a while…Chloe and Halle started covering songs on Youtube, and their work paid off as they are now signed to Beyonce's Parkwood Entertainment. I came across their album as I was looking to download Grown, the theme song of Freeform's new sitcom Grown-ish (which they also star in). When I found this song, I also found the title song for their album, The Kids Are Alright. This is by far my favorite, with Fall coming in second. You should listen, and get the album for yourself when it drops later this month, March 23.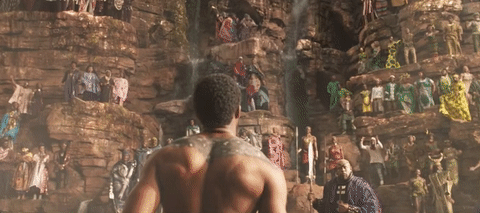 Do I even have to say it? Black Panther was the one thing THE WORLD was waiting for in February. Me, personally, I've been waiting since Chadwick first became Black Panther in Captain America: Civil War. Well worth the wait, I would say. The story was well told, and well portrayed by powerful people in Black Hollywood. Lupita, Danai, and Letitia all played such vital parts, arguably more important than the King of Wakanda himself. The movie showed the power of women, the power of Blacks, the power of loyalty, and the power of knowing your purpose. It was all present, and very important for the world, especially kids, to see. If you haven't seen it, I'm judging you, but I'm also encouraging you to make the time. Make the time for the art, the culture, and the message.
WORLD WIDE WEB
In the world of blogging, I am spending a lot of my time online. I find so many people & brands to support.
livetinted.com is a digital community created to embrace, acknowledge, and empower POC. Founder Deepica Mutyala is a well known face & voice in the beauty community, and she felt that the industry overlooked and underrepresented the "tinted" community. #livetinted is a place for that voice, our voices to be loud, powerful, and strong. On the website you will find interviews with well known POC creators; videos of men & women of POC discussing their culture and identity; products that are approved by the #TintFam; and the faces of all the people who are part of the #TintFam. Follow them on Instagram to get BTS of their interviews, headquarters, and the tinitionary – a dictionary curated by the women behind #LiveTinted.
ToThe9s is one of my favorite Youtube channels. The first day I found this channel, I went back to the beginning of their timeline and watched all their tips, tutorials, vlogs, and lookbooks. The channel belongs to Cassie & Ricci: two amazingly fashionable, fun girls located in Canada. They gained a lot of fame & attention being their authentic selves it seems. I follow the girls on individually & collectively on Insta.
Their style – from their clothes, to their photo feeds, to their makeup & beauty, to videography & photography – gives me all the feels.
MISC
Land of the misfits…
Over the last few years I've taken any vitamins & pills that caught my eye to keep my health in check. Lately I was on the search for one to help me with my hair, skin, and nails. I tried biotin pills, from several different brands, and like many others I broke out. Luckily, I follow the right people on Instagram. One week I saw at least 5 people talking about OLLY vitamins. I hit up my local Target, and they were on sale!! I carefully read each label and settled on The Perfect Women's Multi and Flawless Complexion, since my biggest focus was definitely my skin. My skin is all I care about nowadays.  The Flawless Complexion tastes absolutely horrible, I couldn't take them more than 3 times. But the women's multivitamin is pretty tasty, and I've seen notable results. My hair grew noticeably faster than it had since I cut it in 2016. My nails grew faster & felt stronger than every before. Even my skin was breaking out less, and I was getting compliments everywhere I went. I chose this over the highly favored Undeniable Beauty because it has more vitamins in it & a longer lasting supply. Although I do want to try Undeniable Beauty (and many of their other options) one day, I'm glad I picked this one up instead.
---
What were your favorite finds from last month?